'It was terrifying': Kourtney Kardashian reveals how ultrasound saved her unborn baby's life
By Merryn Porter |
K?ourtney Kardashian has opened up about the foetal surgery that saved her unborn baby's life and the 'gratitude' she feels to soon be welcoming her fourth child at 44.
The Kardashians star also spoke about the many restrictions she has had during her 'geriatric' pregnancy, and how she doesn't plan to leave the house for 40 days once she welcomes her first son with her rocker husband Travis Barker.
She also revealed it was a non-routine ultrasound that alerted doctors to the condition that saved her baby son's life.
READ MORE: Britney Spears reveals pregnancy to Justin Timberlake in bombshell memoir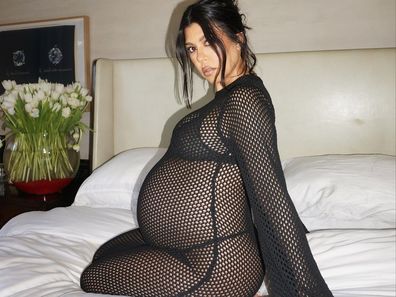 ?Kardashian was speaking in an interview with Vogue which appeared online overnight.
She said she had always been "obsessed with being pregnant" but it took a dark turn at the start of September when she was rushed to hospital for emergency foetal surgery.
"That experience opened my eyes to a whole new world of pregnancy that I didn't know about in the past," she said.
"It was terrifying."
READ MORE: 'Lower. The. Standard': How to parent when you're all sick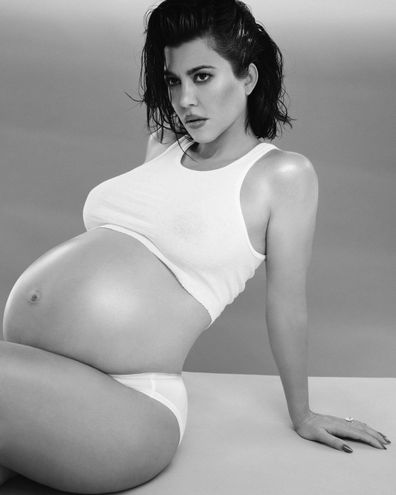 ?Kardashian said she learned afterwards that in the US, health insurance typically "only covers two ultrasounds when you're pregnant" ¨C something she had "no idea" about.
"I've always been lucky enough to do more than what insurance covers, and it's one of those ultrasounds that saved my baby's life," she said.
After news broke that Kardashian had been hospitalised, she took to Instagram to tell fans what happened.
"I will be forever grateful to my incredible doctors for saving our baby's life. I am eternally grateful to my husband who rushed to my side from tour to be with me in the hospital and take care of me afterwards, my rock," she wrote.
"And to my mum, thank you for holding my hand through this.
"As someone who has had three really easy pregnancies in the past, I wasn't prepared for the fear of rushing into urgent foetal surgery. I don't think anyone who hasn't been through a similar situation can begin to understand that feeling of fear.
"I have a whole new understanding and respect for the mamas who have had to fight for their babies while pregnant. Praise be to God. Walking out of the hospital with my baby boy in my tummy and safe was the truest blessing."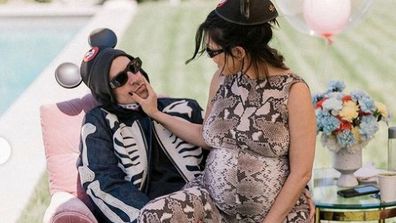 Elsewhere in the Vogue interview, Kardashian said how different pregnancy was the fourth time around, after welcoming her three older children, Mason, 13, Penelope, 11, and Reign, eight, while in her 30s with former boyfriend Scott Disick.
She said she had to take a lot more precautions because her age meant it was classified as a 'geriatric' pregnancy.
"That word is just so wild. But my doctors are so cautious and I've had so many more restrictions than my other pregnancies," she said.
"The first trimester was no working out, no flying on airplanes, no sex. Then the second trimester, I could do anything. Now, I am back to all the restrictions."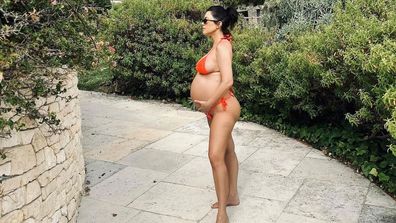 Kardashian also confirmed she fell pregnant naturally after stopping IVF before the couple's fairytale wedding in Portofino, Italy.
"I felt really pressured and pushed into doing IVF," she said. "It went against my intuition, and I didn't feel fully prepared for the mental or physical toll it takes.
"We just got pregnant naturally. It was an indescribable feeling. Shock, then super-happy, fear sets in, worry, but I remembered then to have gratitude."
Kardashian said she was spending the final stages of her pregnancy going on long walks and listening to uplifting audio books before her baby arrives, after which she planned to do attachment parenting.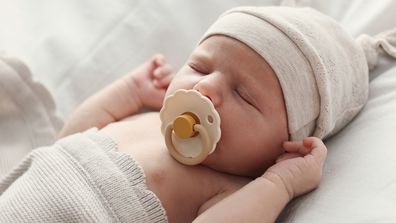 The century-old baby names that are about to make a comeback
"That's what I did for my last two kids," she said.
"We didn't leave the house for the first 40 days. After, you're super-connected and I love that."
She also revealed she doesn't have a birth plan.
"I've actually never had a birth plan in the past," she said.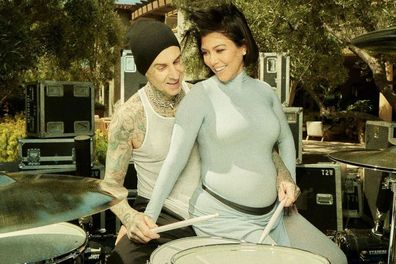 "I was so chill when my water broke with Mason, I shaved my legs and put on make-up.
"This time, I still don't have a birth plan except for talking to the baby all the time and telling him 'Everything is going to be amazing'."
She said as her due date drew near, she had "finally been able to let go of the fear and worry that everybody else put in us because of this pregnancy."
"I'm ready to go in, have the baby, and have the experience we're meant to have,"? she said.
For a daily dose of 9Honey, subscribe to our newsletter here